HOME | ORDER | PAYMENT | OUR POLICY | LINK
Children's Books
Welcome to the Children's Book list. If you are looking for particular books not listed please e-mail me at kim@firstpagebooks.com as Ie have many others in stock and do receive new ones in.
Please quote stock reference number (s) when ordering.
Please refer to the HOME page for contact details.
---
1374. A. A. Milne: The King's Breakfast

London: Methuen & Co, 1928: Third edition book with dust jacket. Browning on endpapers, contents very good for age. Poem set to music, illustrations by Ernest Shepherd, inscription, price unclipped £28.00
---
1446. Buckeridge, Anthony: Jennings, As Usual

London: Collins, 1964 Some browning otherwise good with bright and slightly worn dust jacket £6.00
---
1495. Braine, Sheila E.: To Tell the King the Sky is Falling

London: Blackie & Co, 1896 Green cover of first edition shows faeries, inscription dated 1897,some plates coloured in, browning throughout but still lovely Victorian book £25.00
---
1493. Burnett, F.H.: Little Lord Fauntleroy
London: Warne, 1904: Blue cover with gilt lettering, spine complete, tatty back cover, inscription, some foxing, well illustrated with book adverts at back £12.00
---
1494. : Chatterbox 1915

London: Wells, Gardner & Darton 412 pages, one loose, normal wear for age, stories etc from a different age, cover shows cat and dog with scarf over one eye. £12.00
---
1444. : Chick's Own Annual 1956

London: Amalgamated Press Colourful cover shows characters in sailor's costumes. Corners worn, price unclipped & no inscriptions. Contents clean with some foxing. £7.00
---
1445. : Empire Annual for Boys Volume 11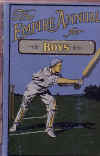 London: RTS, 1919 Blue cover shows cricketer. 320 pages, inscription, 6 coloured & 16 black & white plates, cover worn but contents very good for year. £12.00
---
1372. --: The Favourite Wonder Book:

London: Odhams Press, 1946: Book of stories and poems including A. A. Milne, Kenneth Grahame & E. Nesbit. Browning on endpapers, colourful dust jacket complete £15.00
---
866. Ingoldsby, Thomas: The Ingoldsby Legends or Mirth and Marvels.

London: Warne, c1843. Spine in gilt, green cloth, foxing on endpapers, 520 pages, drawings by Leech, Cruikshank etc. £15.00
---
896. Johns, W.E: Biggles and the Black Peril.

London: Dean & Son Ltd. Minor wear on dust jacket, price unclipped ( 15 new pence ), no inscriptions. £5.00
---
332. -----: Radio Fun Annual.

London: Fleetway, 1959. Norman Wisdom on cover which shows some wear. Features Benny Hill, Norman Wisdom inside and is in good condition with no inscriptions. £8.00
---
1371. Richards, Frank: Billy Bunter at Butlins

London: Cassell, 1961: First edition with slightly worn dust jacket, price unclipped & no inscriptions. Butlin Beaver Club edition with Bunter on cover with plate of pies. £12.00
---
1246. Thornycroft, David: The First Book of Heroes:

Purnell, 1958: Very good issue with articles on Scott, Campbell, Leif Ericsson etc. No inscriptions, red cover. £6.00

Back to Top