HOME | ORDER | PAYMENT | OUR POLICY | LINKS
Golf
Welcome to the Golf list. If you are looking for particular books not listed please e-mail me at kim@firstpagebooks.com as we have many others in stock and are constantly receiving new ones in.
Please quote stock reference number (s) when ordering.
Please refer to the HOME page for contact details.
---
193. : Ryder Cup Official Programme

1997 Programme from the Europe v USA match at Valderrama Golf Club. 320 pages, colour pics throughout. £5.00
---
1299. ---: Golf Lessons from the Pros:

London: Country Life, 1965: Illustrated by Ravielli, 113 golf lessons, 82 leading professionals, contents lovely, price unclipped & no inscriptions. Bright dust jacket £9.00
---
1311. Black, Andy: Golf Courses of Scotland:

London: MacDonald, 1974: First edition soft back, very good contents with no inscriptions £5.00
---
1304. Dante & Diegel: The Nine bad shots of Golf ( and what to do about them ):

London: Herbert Jenkins, 1957: Contents very good for age, tatty cover, top 1" spine missing, name inside £6.00
---
1293. Duncan, George & Darwin, Bernard: Present-Day Golf:

London: Hodder & Stoughton, 1921: First edition, 308 pages, browning on endpapers, part 1by Duncan, part 2 by Darwin, green cloth, small tear at top of spine, but complete with gold lettering. £65.00
---
1310. Greenwood, George: Golf Really Explained !

London: Foulsham & Co, c1920: Soft cover with no inscriptions. Lovely small book from a different era £15.00
---
1305. Hagen, Walter: The Walter Hagen Story:

New York, Simon & Schuster, 1956: First US edition, very good contents, price unclipped & inscription, 342 pages, tatty, mainly complete & rare dust jacket £28.00
---
192. Hope, Bob: Confessions of a Hooker

New York: Doubleday & Co., 1985 First US Edition detailing the comic's lifelong love affair with golf. Foreword by President Ford this clean book has no inscriptions. £5.00
---
184. Houghton, George: Portrait of a Golf Addict

London : Country Life Limited, 1960 Foreword by Henry Cotton. First edition, tatty dust jacket, name inside, contents good with many cartoon drawings. £5.00
---
1319. J. Victor East: Better Golf in 5 minutes:

London: Angus & Robertson, 1958: First edition, lovely contents, inscription, tatty dust jacket £7.00
---
1314. Jacobs, John: Golf :

London: Stanley Paul, 1966: Third impression, lovely contents, no inscriptions & price unclipped. Dust jacket has part missing top left £9.00
---
1318. Mair, Lewine: One Hundred Years of Women's Golf:

Mainstream, 1992: First edition hardback in excellent condition throughout with bright dust jacket, no inscriptions, price unclipped £12.00
---
1298. Middlecoff, Gary: Advanced Golf:

London: Kaye, 1958: First UK edition, inscription, price unclipped, tatty dust jacket, very good contents £8.00
---
1291. Padgham, Alfred: The Par Golf Swing:

London: Routledge, 1936: First edition with green cloth cover. Some minor browning, very good for age, no inscriptions. £9.00
---
187. Player, Gary: The Second Book of Gary Player's Golf Class

Sunday Express: 1969 Signed by the great man. Soft cover, price unclipped. Some wear, but a rare piece of golfing memorabilia. £35.00
---
1308. Rees, Dai: Golf My Way: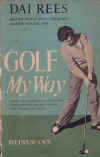 Heinemann, 1951: First edition with a special chapter for the woman golfer. Very good contents, worn dust jacket, price unclipped £9.00
---
1316. Robinson, Larry: Golf Secrets of the Pros:

USA: Fawcett, 1956: First soft cover with many tips from the great golfers of the time. £5.00
---
1300. Snead, Sam: How to play Golf

New York: Garden, 1946: First edition, green cover, very good contents, no inscriptions, includes rules of golf £8.00
---
1295. Snead, Sam: Natural Golf: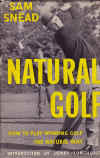 London: Burke, 1954: First edition with introduction by Henry Longhurst, dust jacket shows author, very good contents, price unclipped & inscription £14.00
---
1312. Stanley, Louis: Fontana Golf Book:

Collins, 1957: First Fontana book, small paperback with name inside. Tells you how to reduce your handicap. £5.00
---
1301. Stanley, Louis: Fresh Fairways:

London: Methuen, 1949: First edition, lovely little book, price unclipped & no inscriptions, wide ranging topics £10.00
---
1306. Stanley, Louis: Style Analysis:

London: Naldrett, 1951: First edition, very good contents, browning on endpapers, no inscriptions £8.00
---
1290. Stanley, Louis T.: The Woman Golfer:

London: MacDonald, 1952: First edition with dust jacket complete. 128 pages, very interesting book from a different era. £12.00
---
190. Tarbuck, Jimmy: Tarbuck on Golf

London : Willow Books, 1983 Very good condition throughout. The comic writes of his obsession whilst with his showbiz pals. £5.00
---
1296. Vardon, Harry: How to play Golf:

London: Methuen, 1913: Old golf book, usual wear for age, spine complete, inscription, market price normally £70+, priced to sell at £48.00
---
Back to Top