HOME | ORDER | PAYMENT | OUR POLICY | LINKS
Sport & Leisure
Welcome to the Sport & Leisure list. Please go to the relevant pages for Boxing, Cricket , Golf & Football lists. If you are looking for particular books not listed please e-mail me at kim@firstpagebooks.com as I have others in stock and do receive new ones in.
Please quote stock reference number (s) when ordering.
Please refer to the HOME page for contact details.
---
1441. Beamont, Bill: Thanks to Rugby

Stanley Paul, 1982: Excellent condition first edition, price unclipped autobiography on the great England Rugby Union star £6.00
---
1264. --: Boys' Book of All Sports:

London: news Chronicle, c1952: Lovely contents for age, dust jacket is complete with some wear & tear. Articles on 15 year old Lester Piggott, many greats from a variety of sports, 160 pages. £12.00
---
1130. Edited by David Coleman: BBCtv Grandstand Sport:

Vernon Holding Ltd, 1965: Lovely contents, tatty, but complete dust jacket, price unclipped, inscription, scarce book with features on Manchester United, Virginia Wade, Lester Piggott etc £9.00
---
1370. Frankland-Payne-Gallwey, Sir Ralph: Letters to Young Shooters:

Longmans, 1914: Lovely book on the choice and use of a gun. Excellent contents for age, no inscriptions £15.00
---
776. Hodgson, Barrie N: Freshwater Fishes of the British Isles.

John Crowther, 1947. Worn cloth cover and endpapers. First colour edition. £5.00
---
1369. Kennard, C. H.: What Sport !:

London: Muller Ltd, 1947: First edition with tatty dust jacket and browning on endpapers. Very good contents, fascinating book of interest to " poachers, dog-lovers, fishermen and all really nice people" £9.00
---
1439. Hare, Dusty & Norrie, David: Dusty

Queen Anne Press, 1985: Lovely first edition SIGNED by Dusty Hare, the England Rugby great.. Dust jacket, price unclipped and Dusty Hare has signed 'To George Best Wishes' £15.00
---
777. Lord Harmsworth: A Little Fishing Book.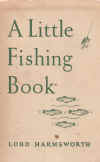 Frederick Muller Ltd, 1942. Green cloth cover with browning dust jacket, contents very good, charming first edition. £18.00
---
1440. Hastings, Scott & Douglas, Derek: Great Scott !

Mainstream, 1996 Lovely condition first edition autobiography on Scotland's Rugby star £6.00
---
1430. Mandell, Richard D.: The Nazi Olympics

Souvenir Press, 1972: First British edition, excellent condition contents and very good colourful dust jacket. Marvellous account of the 1936 Berlin Olympics. £12.00
---
1438. Mansell, Nigel & Allen, James: Nigel Mansell - My Autobiography:

CollinsWillow, 1995: First edition in excellent condition throughout with dust jacket. Price unclipped & no inscriptions with 351 pages. £7.00
---
1337. Parkinson, Michael: Sporting Fever:

Readers Union, 1975: Lovely condition throughout with dust jacket, price unclipped & no inscriptions. Articles on football, cricket, boxing etc £5.00
---
385. Richards, Sir Gordon: My Story.

Hodder & Stoughton, 1955. First Edition in blue cloth. Name inside, Boots Library sticker on front cover. £5.00
---
775. Turing, H.D: Where To Fish.

The Field, 1935. Green cloth cover, 438 pages plus several adverts and complete map. Usual wear, lovely Angling book. £20.00
---
386. Wilson, Julian: Lester Piggott, The Pictorial Biography.

Macdonald Press.1985. First Edition in dust jacket. Excellent condition throughout, price unclipped and no inscriptions. £7.00
---
Back to Top